Oilmax Singapore is officially the sole distributor of Sinopec Motorcycle Products in Singapore.
In 2021, we entered into an exciting partnership with renowned global oil major, SINOPEC. Oilmax Singapore is an official distributor of SINOPEC Lubricant .
This partnership further enhance Oilmax capacity in providing a complete solution to export opportunities.
Welcome to SINOPEC Singapore
Background
The Company is the largest oil and petrochemical products supplier and the second largest oil and gas producer in China, the largest refining company and the second largest chemical company in the world. Its total number of gas stations ranks the second place in the world. It ranked the 2nd on Fortune's Global 500 List in 2020. Equipped with world-class automatic blending and packaging production line, SINOPEC can supply over 2000 kinds of lube oils and greases in 21 categories, including engine oil, industrial lube oil, greases, marine oil, special fluid, etc for global customers.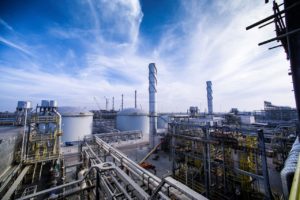 SINOPEC Builds Singapore Lube Plant

The Singapore plant will function as SINOPEC Asia Pacific regional hub for production, servicing and logistics, servicing customers in South East Asia, Australia and New Zealand. Located on a 40,000 square meter site in Tuas in southwestern Singapore, the project will be Chinese government-owned SINOPEC first lubricant plant outside of China, and also the first overseas production and sales base in China's lubricant industry. Going forward, the Singapore plant will serve as the model for our future investments overseas, production, sales and plant operation. SINOPEC Lubricant Co. Singapore will be the gateway to the rest of the world as SINOPEC embark on extending thier global footprint. Singapore's growing position as a leading trading hub for oil and gas would help to facilitate SINOPEC international expansion. With an annual handling capacity of approximately 1.8 million tons and a base oil and lubricant tank area with a total tank capacity of approximately 200,000 cubic meters. It was officially operational in January 2016.​